There is no age requirement for learning!
That is why the Université libre de Bruxelles chose to open its doors to children, ages 6 to 12.
Our goal is to instill a sense of curiosity early on and to facilitate the learning of sometimes complicated ideas in an original and fun way. The Université des Enfants also aims to discover the various domains of knowledge and research with which to accommodate the youngest generation.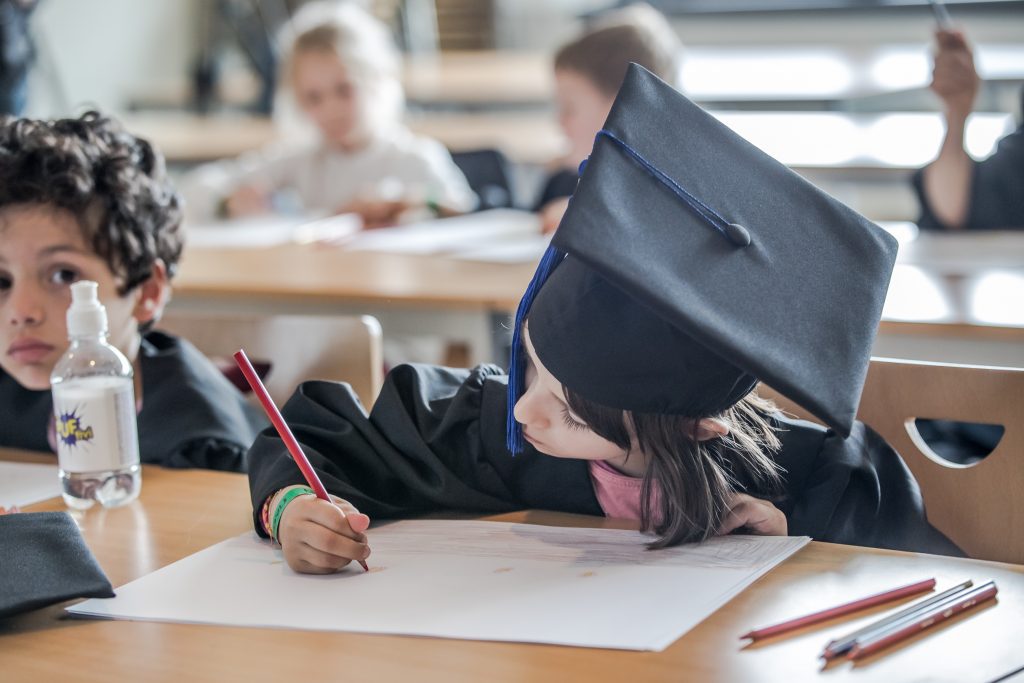 Children at University
Activities are created in a participatory manner and organized around experiences, observations, and games both individual and collaborative. With this approach in mind, the workshops of the Université des Enfants are systematically based on a question that a child could have, and which is developed by the professor.
For example, the Why does chocolate melt in your mouth? workshop introduces concepts of thermodynamics to children by appealing to their logic, comparing chocolate to other things that melt differently, doing experiments to determine when chocolate begins to melt, etc. The impressive bioengineering lab to which the children are brought then naturally becomes a welcoming place where they can enjoy their first scientific experiment.
For another example, Can we live together in harmony? allows children, sitting in a circle, to reflect on values, respect, and difference. The professor begins the discussion and allows the children to express themselves and justify their views. The children are thus introduced to their first philosophy workshop where their ideas confront those of others, either transforming or strengthening them.
Citing just a few other examples:
How does my house stay standing?
Do we always have to believe what we're told?
What are the rights of children?
Do all bacteria look the same?
Why can't I stop myself from playing video games?
→check the workshops program & subscribe !
Professors at the children's disposal
Our professors strive to be true facilitators of learning and always put the child at the center of activities. Thanks to them, the Faculties of Architecture, Law & Criminology, Letters, Translation, & Communication, Medicine, Pharmacy, Philosophy & Social Sciences, Science, Motor Sciences, Psychologic & Education Sciences, and Economics (Solvay) as well as the Public Health, Bioengineering, and Polytechnic Schools are all represented in the subjects addressed by the Université des Enfants.
To name just a few of our professors,
Bartik Kristin, Bensliman Rachida, Bles Olivier, Bonal Mathias, Bonte Martin, Boom Arthur, Cheron Julian, Damar Marie-Eve, Debaste Frédéric, Decnoop Vanessa, Deraemaeker Arnaud, Derminne François, Destoky Florian, Detournay Stéphane, Di Giglio Sarah, Dongo Désiré Patrice, Ftaich Halima, Geegaerts Gilles, Hut Florence, Inglisa Alison, Kizil Selfet, Lahboudi Mounsef, Lambert Pierre, Laurent France, Laurent Patrick, Le Cam Florence, Lefevre Philippe, Libert Thierry, Luffin Xavier, Mayer Marc, Mélotte Patricia, Mpunga Yoga Norbert, Puttemans Marianne, Rabineau Jeremy, Roland Elsa, Rovai Antonin, Sanhueza Maria Jemina, Schmitt Mathias, Trotta Nicola, Van Sint Jan Serge, Vanatoru Brigitte, Vedernikov Andrei, Wayens Benjamin, Weyemberg Anne, Weyland Marielle, Wylock Jean-François, …
THANK YOU
University students guiding children
All activities at the Université des Enfants would not be possible without our team of student workers ready every Saturday to welcome some 200 children on campus. They are charged with the safety of the children, accompanying them to the welcome site of their workshop, and ensuring that each child feels comfortable and is having fun.
The students also work closely with the professors to create useful pedagogical tools for the workshops. These handy students at the Université des Enfants pitch in every week to prepare materials—anything from cutting boxes for "What if loudspeakers were friends?" to the construction of a simulation of a black hole for "What is a black hole?"
The Université des Enfants has 15 university students working each Saturday every academic quarter!
The University of Children is recruiting!
Are you a student at ULB and looking for a student job that makes a difference? Are you free Saturday mornings and good with children?
→Send your CV to ude@ulb.be
A University of Children at your school ?
Are you part of a university, Belgian or otherwise?
Do you find this project inspiring and wish to have something similar on your campus?
We will gladly share our experience with you!
→Write to us at ude@ulb.be
Good to know: University of Children also exists in Charleroi & Mons !
Contact
For any questions or requests, please email ude@ulb.be
Follow us on Facebook.
Activity reports: